Neuerscheinungen 2016

Stand: 2020-02-01
Schnellsuche
ISBN/Stichwort/Autor

Herderstraße 10
10625 Berlin
Tel.: 030 315 714 16
Fax 030 315 714 14
info@buchspektrum.de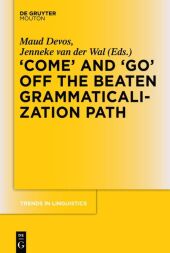 ---
Maud Devos, Jenneke Van der Wal (Beteiligte)

´COME´ and ´GO´ off the Beaten Grammaticalization Path
---
Ed.: Devos, Maud; van der Wal, Jenneke
2016. IX, 342 S. 230 mm
Verlag/Jahr: DE GRUYTER; DEGRUYTER MOUTON 2016
ISBN: 3-11-048473-0 (3110484730)
Neue ISBN: 978-3-11-048473-1 (9783110484731)

Preis und Lieferzeit: Bitte klicken

---
The series publishes state-of-the-art work on core areas of linguistics across theoretical frameworks as well as studies that provide new insights by building bridges to neighbouring fields such as neuroscience and cognitive science. The series considers itself a forum for cutting-edge research based on solid empirical data on language in its various manifestations, including sign languages. It regards linguistic variation in its synchronic and diachronic dimensions as well as in its social contexts as important sources of insight for a better understanding of the design of linguistic systems and the ecology and evolution of language.
---

This edition brings together some lesser known grammaticalization paths travelled by ´come´ and ´go´ in familiar and less familiar languages. No single book volume has been dedicated to the topic of grammatical targets different from tense and aspect so far. This study will increase our insight in grammaticalization processes in general as they force us to rethink certain aspects of grammaticalization.
---
Maud Devos, Royal Museum for Central Africa, Belgium, and Jenneke van der Wal, University of Cambridge, UK.

---