Neuerscheinungen 2018

Stand: 2020-02-01
Schnellsuche
ISBN/Stichwort/Autor

Herderstraße 10
10625 Berlin
Tel.: 030 315 714 16
Fax 030 315 714 14
info@buchspektrum.de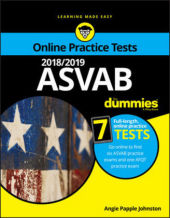 ---
Angie Papple Johnston

2018/2019 ASVAB For Dummies with Online Practice
---
Mit Online-Zugang
1. Auflage. 2018. 560 S. 272 mm
Verlag/Jahr: WILEY & SONS; FOR DUMMIES 2018
ISBN: 1-11-947624-0 (1119476240)
Neue ISBN: 978-1-11-947624-5 (9781119476245)

Preis und Lieferzeit: Bitte klicken

---
Ace the ASVAB with this easy to use guide--including online practice!

Looking to join the military and get the job of your dreams? Before your boots hit the ground, youŽll have to perform on the ASVAB to qualify for military participation and for specialty placement. 2018/2019 ASVAB For Dummies with Online Practice provides you with in-depth reviews of the nine test subjects to get you going, along with complete explanations for each question, exercises, strategy cheat sheets, and tips to discover your weaknesses and work to maximize your test performance.

YouŽll also be able to go online to study whenever you like, with convenient resources, hundreds of flashcards, 6 full-length ASVAB practice tests, and one AFQT practice test that will help you tailor your studying to suit your specific needs. If youŽve always dreamed of joining the military and being challenged by a new and exciting career, the ASVAB is your first step to achieving your dreams, and this guide will help you along the way!
Aim high, score high on the ASVAB and qualify for the military job you want
Quickly boost your math, science, and English performance for the test
Complete an in-depth review of all 9 subject areas to prepare for that crucial test day Study hard and get the score that will help you get an enlistment bonus

2018/2019 ASVAB For Dummies with Online Practice is your go-to guide for mastering the skills and knowledge youŽll need to attain the ASVAB test score that will help you live your dream!
---
Angie Papple Johnston joined the U.S. Army in 2006 as a Chemical, Biological, Radiological, and Nuclear specialist, ready to tackle chemical weapons in a Level-A HAZMAT suit. SheŽs currently the CBRN noncommissioned officer in charge of an aviation battalion in Washington, D.C.

---