Neuerscheinungen 2018

Stand: 2020-02-01
Schnellsuche
ISBN/Stichwort/Autor

Herderstraße 10
10625 Berlin
Tel.: 030 315 714 16
Fax 030 315 714 14
info@buchspektrum.de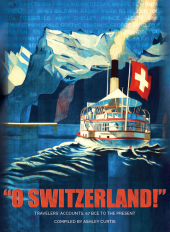 ---
Ashley Curtis

"O Switzerland!"
---
Travelers´ accounts, 57 BCE to the present
Herausgegeben von Curtis, Ashley
2018. 320 S. 40 Abb. 30 cm
Verlag/Jahr: BERGLI BOOKS 2018
ISBN: 3-03-869031-7 (3038690317)
Neue ISBN: 978-3-03-869031-3 (9783038690313)

Preis und Lieferzeit: Bitte klicken

---
The most incisive writing about Switzerland from the world´s most creative minds: from Tolkien to Tolstoy, Petrarch to Prince, Julius Caesar to George Sand. They wrote of wars and money, poverty and peaks, dances and prisons, wolves and fleas. "O Switzerland!" deftly weaves together over 450 first-hand accounts to paint a dazzling and disturbing portrait of an enigmatic land.
---
Curtis, Ashley
Ashley Curtis is the author of Irrtum und Verlust and the upcoming books Will Geneva Vanish? and Double, Double. From 2009 to 2014 he was Co-Director of the Ecole d´Humanité in Hasliberg. He currently lives in Villaz in the Val d´Hérens.

---